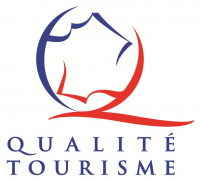 The Qualité Tourisme brand was created by the State to identify tourism professionals who offer quality services and hospitality. This label brings together various players in the tourism and hospitality industries, in particular hotels, restaurants, and tourist attractions. Nearly 5,500 establishments are recognized by this label in France.
Château Virant has earned this quality label since its creation. The estate issues a warm welcome to all its visitors. The staff is attentive and knowledgeable about various subjects, such as the making of our award-winning wines and olive oils. To welcome the large number of tourists that arrive in Provence each year, the estate team offers tours and lectures in multiple languages. Depending on the group size, desire, and interest, the Cheylan family and the estate team also offer personalized services.

The doors of Château Virant are wide open throughout the year to welcome visitors. Visitors can tour the estate for free, select a guided tour or, if they wish, participate in the olive oil tasting seminar.

Visitors who choose the guided tour are accompanied by a member of the Cheylan Family, who will tell the story of the estate since its creation. This visit ends with a tasting session of the estate's products: wines, olive oils, olives, baked wine vinegar, cookies and other specialties.
Olive oil lovers are often captivated by the seminar led by our olive oil expert, Christine Cheylan. We offer several different formats for this experience. Visitors can opt to taste 5 or 15 olive oils over the course of a 1h30 or 3h seminar.

The Château Virant estate also houses a Vine and Olive Museum. This space brings together old tools, retraces the past, and tells the story of the evolution of the vine and olive trades. There is also an exhibit which presents a sensory journey, very popular with visitors of all ages.

All year round, the Cheylan Family organizes cultural and sporting events within the estate. On the first Thursday of each month, the estate hosts an expert as part of the evening guest speaker series entitled "Thirst for Knowledge." The speaker will present a topic and take questions from the audience. The Château also offers wonderful recreational opportunities. The Trail de Virant winds through the estate, giving runners the chance to race between olive groves and vineyards on the path that leads to Rocher de Virant.

On sunny days, many visitors come to enjoy the weather and stroll through the orchards of Château Virant. It is an ideal place to relax and enjoy time with family and friends.
During the busy harvest season, Château Virant invites tourists and locals alike to observe the process while learning more about the trades of the estate. Despite the heavy workload, the Château Virant team takes the time to discuss and answer all questions.