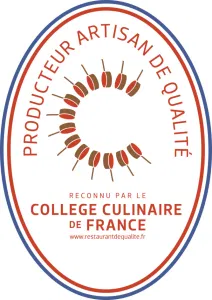 The Collège Culinaire de France label recognizes quality products, made in France and according to select standards, that contribute to the country's rich culinary heritage. France, rich in artisanal expertise, organic products, and unique cultural regions, is celebrated around the world for its cuisine. To preserve this rich gastronomic culture, 15 internationally renowned French chiefs founded the Collège Culinaire de France label in 2011.
This institution recognizes the influence of French culture and gastronomy and highlights the craftsmanship in select French products. The College strives to showcase a diverse range of French food, food that is grown and produced using traditional artisanal methods.

Since 2018, Château Virant has been honored to receive the label of the Collège Culinaire de France. The Cheylan family has built its expertise over generations by understanding the relationship between the land, the olive varieties, and the climate. At Château Virant, we understand that it is craftsmanship that unites these three elements and makes quality production possible.

The history of Château Virant and the family legacy of artisanal expertise are perfectly aligned with the principles of the Culinary College of France.

The production methods that we implement here on the estate are the result of knowledge and passion passed down from generation to generation. The Cheylan family and its team are proud to share all of the methods used to manufacture and produce our quality olive oil.
In the Cheylan family, each generation adds to the family legacy by introducing innovative methods, equipment, and techniques. It is this ongoing quest for excellence that allows us at Château Virant to continue to produce quality products over time.
Obtaining the Collège Culinaire de France label supports the Cheylan family values. This label also verifies for the general public the quality of the products offered and the commitment of the entire Château Virant team to the preservation of French culinary heritage.