At Château Virant, we offer a multitude of diverse activities for visitors to enjoy on our estate. Our goal is for all of our visitors to enjoy themselves, whether that enjoyment comes through exercise on our grounds, learning about our work, tasting our products, or enjoying the ambiance of our property.

HIKING AND RUNNING :

Château Virant is a natural place for physical activity because of its beautiful landscape. Our vineyards, olive groves, and hills encourage walks and hikes. A historic route winds through our vineyards and olive trees to the "Virant rock" on a nearby hillside. After a 30 minute hike, you will reach this ancient château by ascending an ancient rock staircase. There, you will enjoy stunning panoramic views of Provence. In the distance, you can spot the Sainte Victoire mountain ridge as well as the Sainte Beaume national forest, two famous landmarks of our region.

The "Virant rock" is also a recognized climbing site in Provence that offers both easy and expert routes. Another activity to enjoy !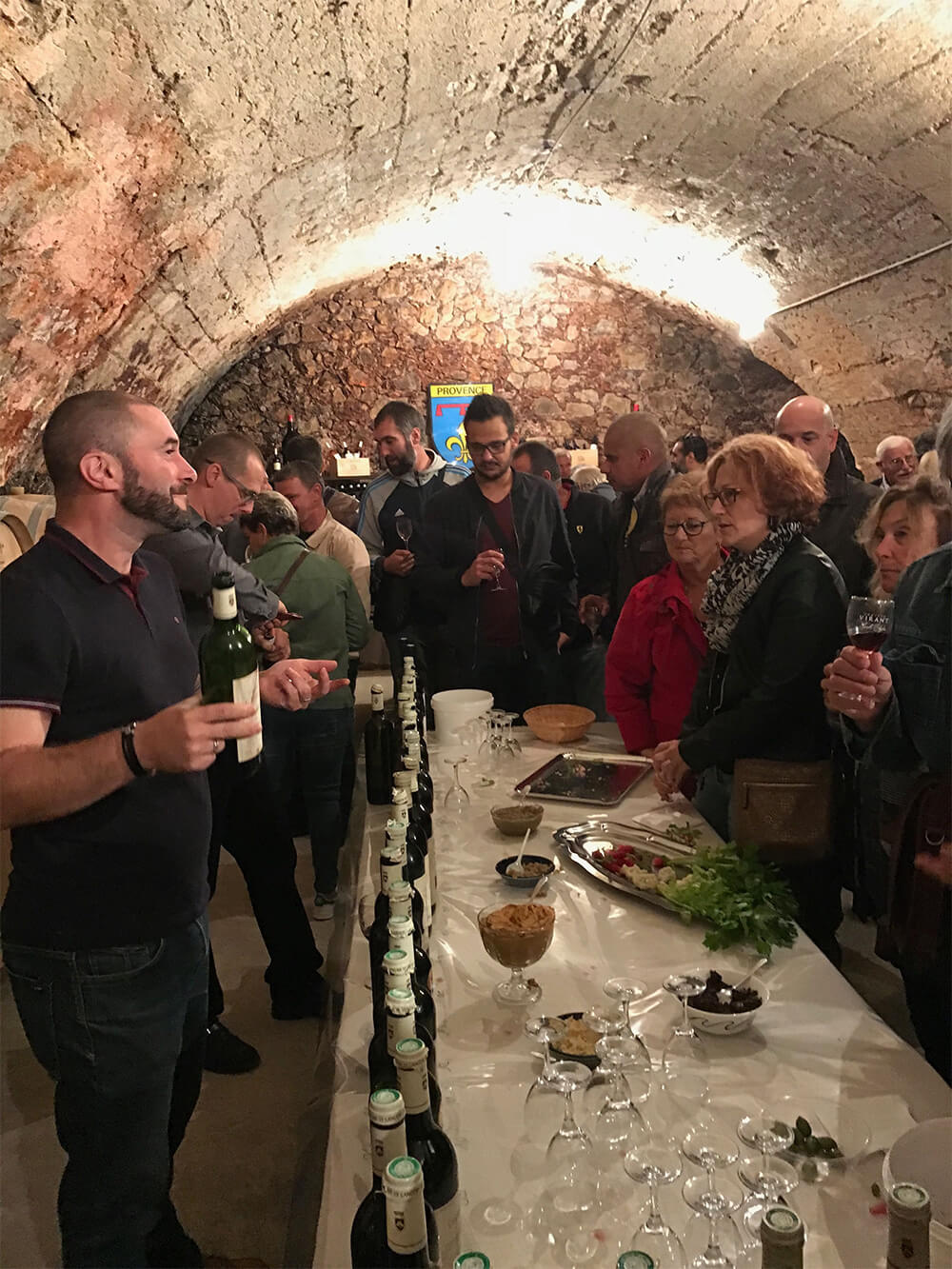 Another well known attraction that takes place on our grounds each year is our annual race on the Château Virant trail. Each year, runners gather, rain or shine, to compete in this famous event.

"LEARN AND DISCOVER" ACTIVITIES :

As the Cheylan Family says: "we have to give meaning to our actions." This is why several educational activities take place at Château Virant each year with the objective of sharing our knowledge with our guests.
First, the tours and the tastings

The cellars, the oil mill, the museum of the vine and the olive tree, and the vinegar factory are open to visitors year round. Choose either :
A FREE TOUR
A self-guided tour of the entire estate. Visitors are welcome to roam the grounds, observe the manufacturing processes, and ask questions of our entire team. Maps are provided free of charge. Visitors who select the self-guided tour are also offered a tasting at the end of their visit (wine tasting in Marseille).
A GUIDED TOUR
A paid tour, often led by a member of the Cheylan family. These 1 hour 30 minute tours completely immerse you in the world of Château Virant. This tour will conclude with an organized tasting in which you will learn about our product as well as their appropriate pairings. For these special tours, there is a fixed price of 150 euros for groups of fewer than 10 people or 15 euros/person for groups larger than 10 people.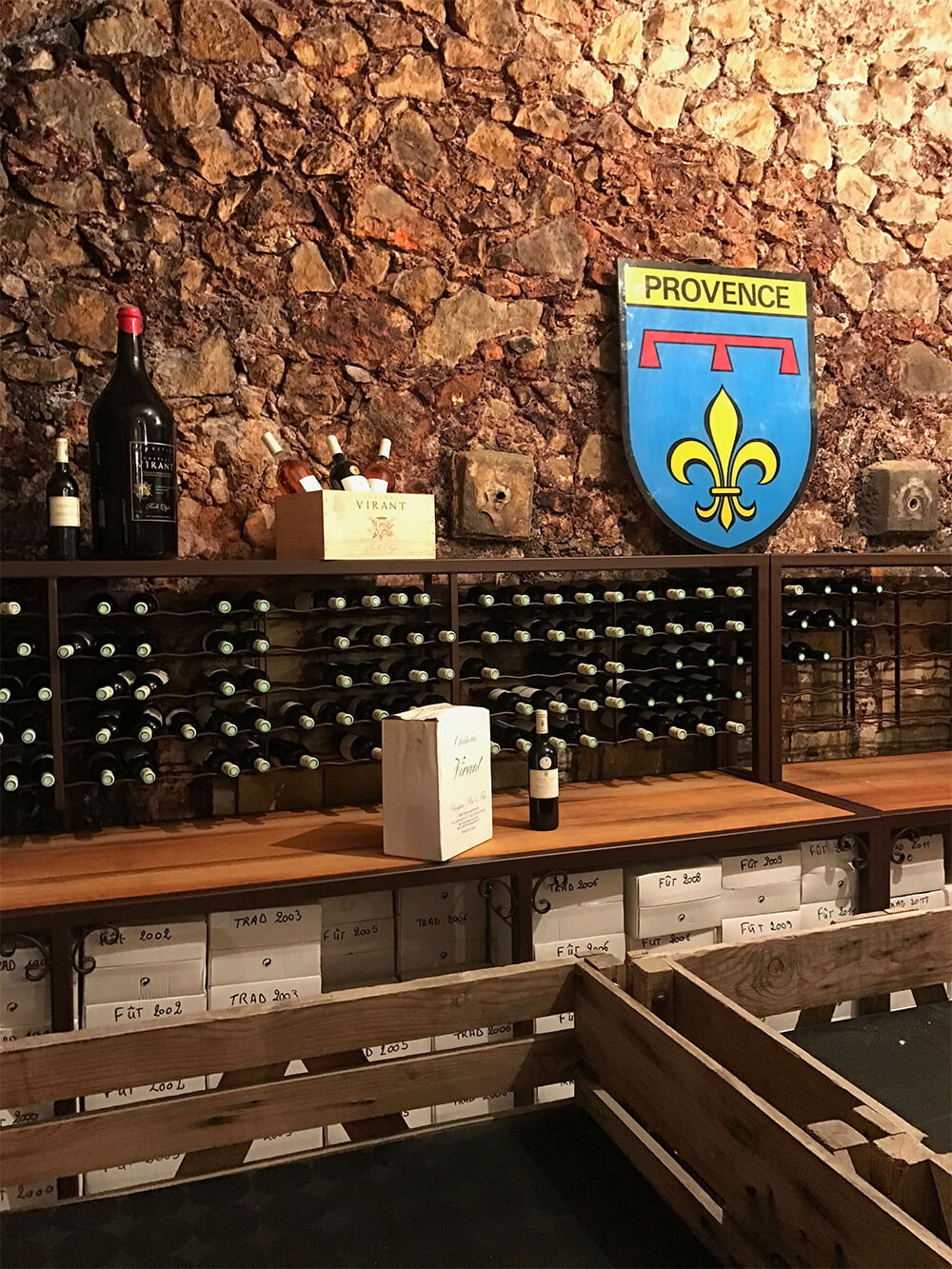 HARVEST SEASON
From August 15 to September 30, the harvest is our main attraction.

From mid-October until Christmas, it is the activity in the oil mill that intrigues visitors.

The sensory journey exhibit in our museum allows you to immerse yourself in the history of the land, the vines, and the olive trees of Provence. All of the tools on display highlight the difficulty of the work as well as the ingenuity of the people. A film explains the wine and olive oil trades at Château Virant throughout the seasons. Everything in our museum aims to teach our visitors about our past and understand our present.
LECTURES
The "Thirst for Knowledge" series is a great success because each lecture tackles a specific theme, usually linked to gastronomy. Each lecture presents authentic moments of sharing and instruction.

Annual events : open day, pruning demonstration

SPECIAL EVENTS/RECEPTION HALL

Our reception hall is the ideal place to host exhibitions, concerts, and banquets.

Every July, our reception hall hosts the festival of laughter "Virant en scène." Each year, we welcome well known comics, such as Mado la Niçoise and the Chevaliers du Fiel for this fun event.

No matter what time of year, there is always something to do on our estate. We offer activities of all kinds. Our property offers the perfect background to enjoy life. Go for a hike, take a seminar, enjoy a tasting, or just take a stroll on our historic property and seek the shade of an umbrella pine for a relaxing picnic. At Château Virant, there is something for everyone.