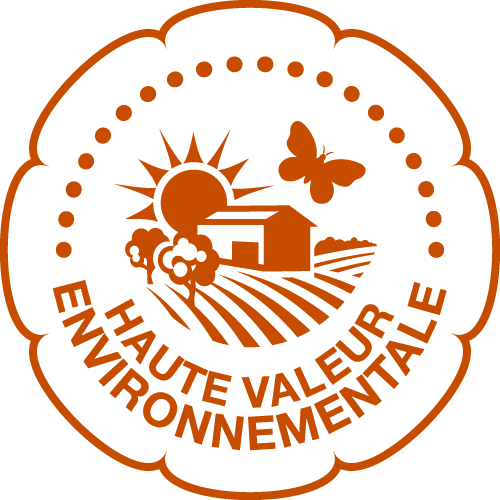 The High Environmental Value label, or HVE, honors the overall approach a business or organization takes to show respect for the environment, responsible management of natural resources, and the preservation of biodiversity. This certification has been managed by the Minister of Agriculture, AgriFood, and Forestry since its creation in 2011.
This label makes it possible to identify farms that are committed to preserving and respecting the land and the environment. The preservation of biodiversity, the use of environmentally-friendly products, the management of water resources, and the incorporation of specific fertilization techniques are elements taken into account in the evaluation and obtaining of the High Environmental Value label, level III, maximum level of the certification.

Since 2017, Château Virant has affirmed its commitment and respect for the environment by obtaining the High Environmental Value label.

During walks on the Château Virant estate, visitors enjoy a natural, green landscape populated with different species of trees and flowers. Depending on the season, you will observe some of the insects and birds who populate our land. We have added our own touches to encourage the settlement of native creatures. If you glance up in the trees, you may spot one of our wooden boxes recently installed by the estate team placed to lure native Pipistrelle bats to nest.
The vines and olive trees of Château Virant are highly respected and carefully tended. During quiet seasons, they are offered a period of rest. The team on the estate monitors and prunes the groves of olive trees to maintain their development and overall health. Our farmers pay special attention to the pruning of the "gourmands," young olive tree shoots which appear at the base of and inside of the main tree trunk. These shoots can be a threat to the larger tree as they can appropriate the energy of the larger tree.

The entire Château Virant team works year round to ensure that their vines are flourishing as well. In late fall, pre-pruning is applied to the vine, "to let it rest quietly after the harvest, as if to thank it for the fruits it has given us," according to the Cheylan family.

The summer climate in Provence can sometimes be dry. The vines and olive trees of the estate are carefully tended with respect for resources, and we closely monitor the use of our water and irrigation systems to sustain our crops. During this time if we do not receive enough rain, we water our olive trees using a controlled drip system in order to provide the tree with the minimum amount of water necessary for the future harvest.
Respect for the environment has been one of the values of the Cheylan family for generations, but also for the entire Château Virant team. Here, respect for the land and its resources is part of our DNA.