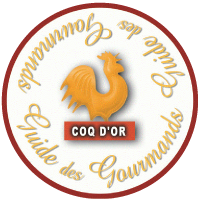 Le Guide des Gourmands, is a guide that reveals the good French addresses of the food trades everywhere in France, and in Europe, since 1988. In other words, it is the address book for chefs and food lovers. The guide has 18 chapters and lists food and beverages by category, including pastries, foie gras, fish, meat and game, cheeses, confectionery, coffee, tea and herbal tea, as well as ice cream and chocolates
Since obtaining the Coq d'Or in 2009, Château Virant is represented in the guide des gourmands, in the category grocery and oils, for its olive oils. In the words of the guide des gourmands, "olive oil is a source of creativity for Christine Cheylan".

In 2020, the Guide des Gourmands has identified more than 2,000 addresses and artisans who produce the best of the region. A passionate food journalist, Elisabeth de Meurville, created this guide to list and encourage French producers who offer products of taste and know-how.

The production of olive oil Château Virant is a meticulous daily work. The team at Château Virant is careful to respect the environment and the needs of each tree in the olive grove. The know-how and the technique have travelled with the Cheylan family from generation to generation. It has evolved through time, adjusted to the innovation of today. The combination of the ancient and the modern gives a surprising result: a French know-how of excellence. In concrete terms, Christine Cheylan produces a PDO Aix en Provence olive oil that makes the Cheylan family and the Château Virant team particularly proud. Indeed, it is the most medal-winning olive oil in France since 1996.