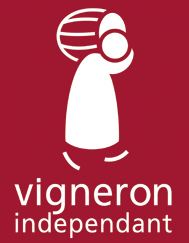 The Independent Winegrower brand, created in 2003, is a label which, as its name indicates, allows to identify the independent winegrowers. To obtain this label, the winegrower must follow a charter: he must commit to respecting his terroir in the cultivation of the vine, to making the wine and bottling it in his own cellar, and to marketing his products with passion, sharing tasting tips, the history of the estate and the culture. Indeed, the diversity of the terroir, the climate and the know-how are at the heart of this commitment.
The Independent Winegrower label has become an important institution in the wine industry in France, which defends a principle and a way of working where each winegrower is an actor of his domain, at all stages of the production and marketing of a wine.

Château Virant has been awarded the Vigneron Indépendant label since 1988. This organization defends small businesses that are commercially reactive, innovative and job creators. It gives a legibility in terms of tourism and recognition of independent winegrowing and participates in the dynamism of rural areas.

At the domain of Château Virant, the respect of the soil and the know-how are precious and are transmitted in the Cheylan family through generations.

The cultivation of the vines on the estate is done with the greatest respect for the environment and the soil, to ensure that our beloved vines flourish. Throughout the seasons, the estate team provides the necessary care to meet the needs of the vines.

The Cheylan family likes to share the history of Virant, its rock, its vines, its products and its ancestral working methods. These methods are still applied on the estate today. However, each generation evolves these methods in order to always bring the best to the vineyard. Moreover, in the Museum of the Vine and the Olive Tree on the site of Château Virant, then through its old tools, a film and a sensory path, the history of the vine and its evolution.
This passion is also transmitted to visitors, local and foreign, during the visits of the domain, which are free or guided. Robert, Noële, Pascal and Christine, as well as the whole team of the domain, take the time to make visitors taste the wines and products of the domain, to visit the cellar and the vineyard, and to explain the processes of making, blending, and maturing the wine, etc..